Your frequently asked questions
Buy and sell on www.malle2luxe.fr all the answers to your questions are here.
Do you buy bags?
No we do not buy a bag.
Do you buy old trunks?
Yes, we can buy all luxury trunks only from brands: Louis Vuitton , Goyard, Moynat  or Hermès . Please send us pictures of the 6 sides, as well as the interior, dimensions, sale price as well as your contact details (address and telephone number).
I want to know the value of my trunk, do you make an estimate?
No, we do not do price estimation.
I would like to sell my Louis Vuitton trunk, can I bring it to you?
Yes, hand delivery is possible and preferred as far as possible, hand delivery is done in Paris Bastille by appointment only.
Do you restore trunks for individuals?
No, we reserve our services for museums and collectors. 
Do you take guided tours of your workshop?
No, the trunk restoration workshop is not open to the public.
But in order to share our know-how with as many people as possible, you can discover it by clicking here.
Is the trunk I saw on your store in stock?
Our   online store is updated daily. 
Who restores the trunks you sell?
In order to control the quality of our restorations and respect for the rules of the art, all the restorations are made in our workshops , without any subcontracting which is the guarantee of optimal quality. 
Do you have a showroom to see your items? 
Malle2luxe sells exclusively on its website, which effectively eliminates costly intermediaries. In order to reduce costs further, we do not have a showroom. The guarantee for our customers to find the highest quality at the best prices.
Can I see a trunk before I buy?
We do not have a showroom, but it is possible by appointment in Paris to see only one of the trunks that we have for sale.
Can you confirm that my luxury bag is real?
We do not have expertise in Louis Vuitton bag , bag Hermes , bag Goyard we invite you to go directly to the store house luxury concerned.
Can you appraise my trunk on photo for free?
No, we cannot appraise a trunk on a photo, the appraisal is a service that cannot be done on a photo. You can find free information on our site on Estimation & Expertise and read our Guide to buying a luxury trunk
Do you guarantee the authenticity of the products on sale? 
Malle2luxe has been committed for many years in the fight against counterfeiting.
Yes all of our items are guaranteed genuine. Being an expert and the reference in the field of second hand luggage, you can therefore buy with your eyes closed. 
How to obtain an invoice including VAT?
If you ordered very recently, please wait for your package to arrive before you can download this invoice. If you have not received it, we can send it to you by email on request.
I want to pay by check is this possible?
Yes it is possible to pay by check, you just have to choose the option we will communicate the order and address of the check to you when confirming the order. Note that for amounts greater than 200 euros, a period of 10 days after receipt is to be expected before the shipment of your order.
How to pay my order by PayPal?
In step 3, select PayPal as the payment method and click on "Continue". You are then redirected to the PayPal page to confirm your payment. At this stage, 2 possibilities:
You already have a PayPal account and log in with your credentials to confirm the payment.
You do not have a PayPal account, you can still pay by credit card on the PayPal page or create a PayPal account beforehand.
After confirmation of payment on PayPal and validation of your order, your account is debited and your package is prepared.
How to cancel an order online?
If you wish to cancel your order, contact us directly at the email to: malle2luxe@gmail.com
Am I covered by the right of withdrawal? 
Yes, you have 14 days from the receipt of your order, if a product ordered online does not meet your expectations. More information article 7 and 8 of our GTC . This is the guarantee for you to buy with peace of mind.
Make a complaint
The satisfaction of our customers is very important to us. If you notice a problem, do not hesitate to contact us by email, phone, or via our complaints form . We respond in less than 18 hours.
Can I collect the goods myself?
Yes, it is possible to come and collect your order directly, in Paris Bastille by appointment.
No shipping costs will then charge you. This service is free.
Can I choose the delivery day for my order?
Yes, it is possible to choose the delivery day of your order from Monday to Friday. Note that in case of customs control we are not able to guarantee the chosen day.
How to track my parcel?
As soon as your order leaves our workshops, we will send you an email confirming the shipment of your package with a tracking link allowing the delivery to be followed. Follow the movement of your package in real time on the site of the partner delivery company (Chronopost, DHL, Fedex, TNT ...)
---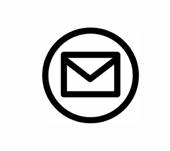 Can't find the answer you're looking for?
Send us an e-mail
Answers to your question within 12 p.m.
---